Today's challenges, such as the climate crisis, are highly complex and urgent – no organisation can tackle them alone.
This is why the Philanthropy Asia Summit (PAS), Philanthropy Asia Alliance's (PAA) flagship platform for action, was launched in 2021, to convene leaders from the public, private, and philanthropic sectors to catalyse partnerships in tackling the greatest environmental and social challenges facing us.
Themed "Climate Crossroads: Pathways for Action", PAS 2023 took place in Singapore on 15 September, with over 300 attendees from across the global philanthropic community. It was the first event attended by the President of the Republic of Singapore, Mr. Tharman Shanmugaratnam, since his swearing in as Singapore's ninth President.
President Tharman is PAA's Distinguished Patron, and has described the Alliance as "a significant and much-needed initiative" to "bring global and regional philanthropists together to work with governments, businesses, and other stakeholders" to "catalyse and scale up" the innovations required to tackle the challenges facing us today.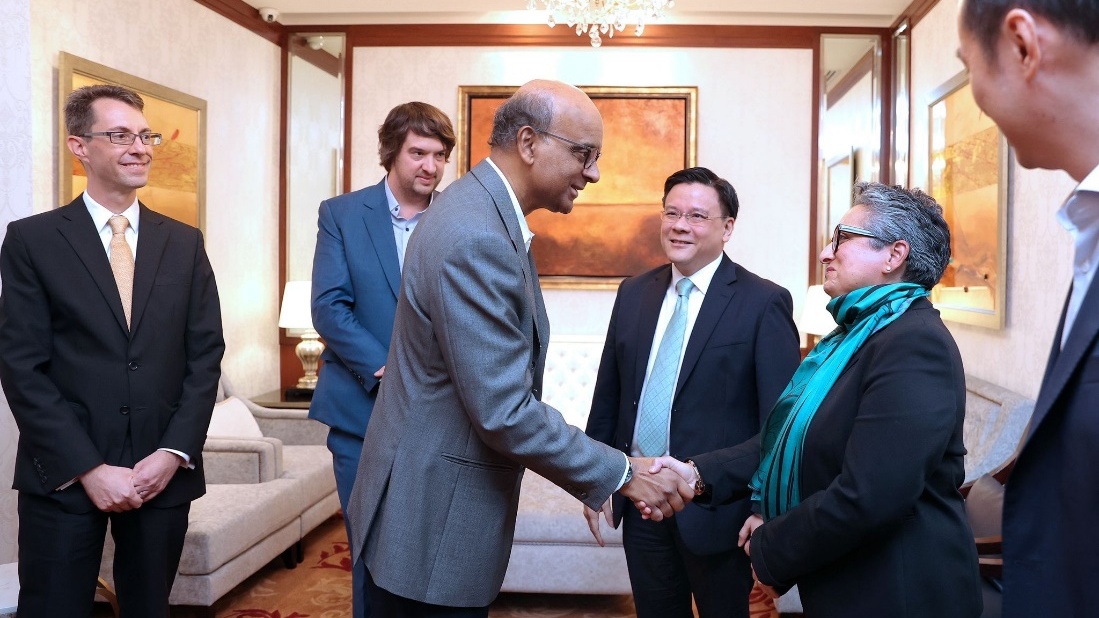 (From left) Mr. Mason Wallick, Managing Director / Chief Executive Officer, Clime Capital Management Pte Ltd; Mr. Mark Dalio, Principal, Dalio Philanthropies; President of the Republic of Singapore, Mr. Tharman Shanmugaratnam; Mr. Tony Lambino, President, Mr. Ayala Foundation; and Shamina Singh, President of Mastercard Center for Inclusive Growth, at PAS 2023.
At the Summit, in announcing the formal launch of PAA, Mr. Lim Boon Heng, PAA Chairman and Chairman of Temasek Holdings, noted that the Alliance was initiated after many in the philanthropic community had called for a more systematic and structured approach to catalyse partnerships for action. In the past year, the governance, frameworks, and policies needed to sustainably scale PAA have been put in place.
"May our Alliance grow from strength to strength as a collaborative platform to synergise our collective efforts for impact in Asia, with the aim to scale good globally," Mr. Lim said.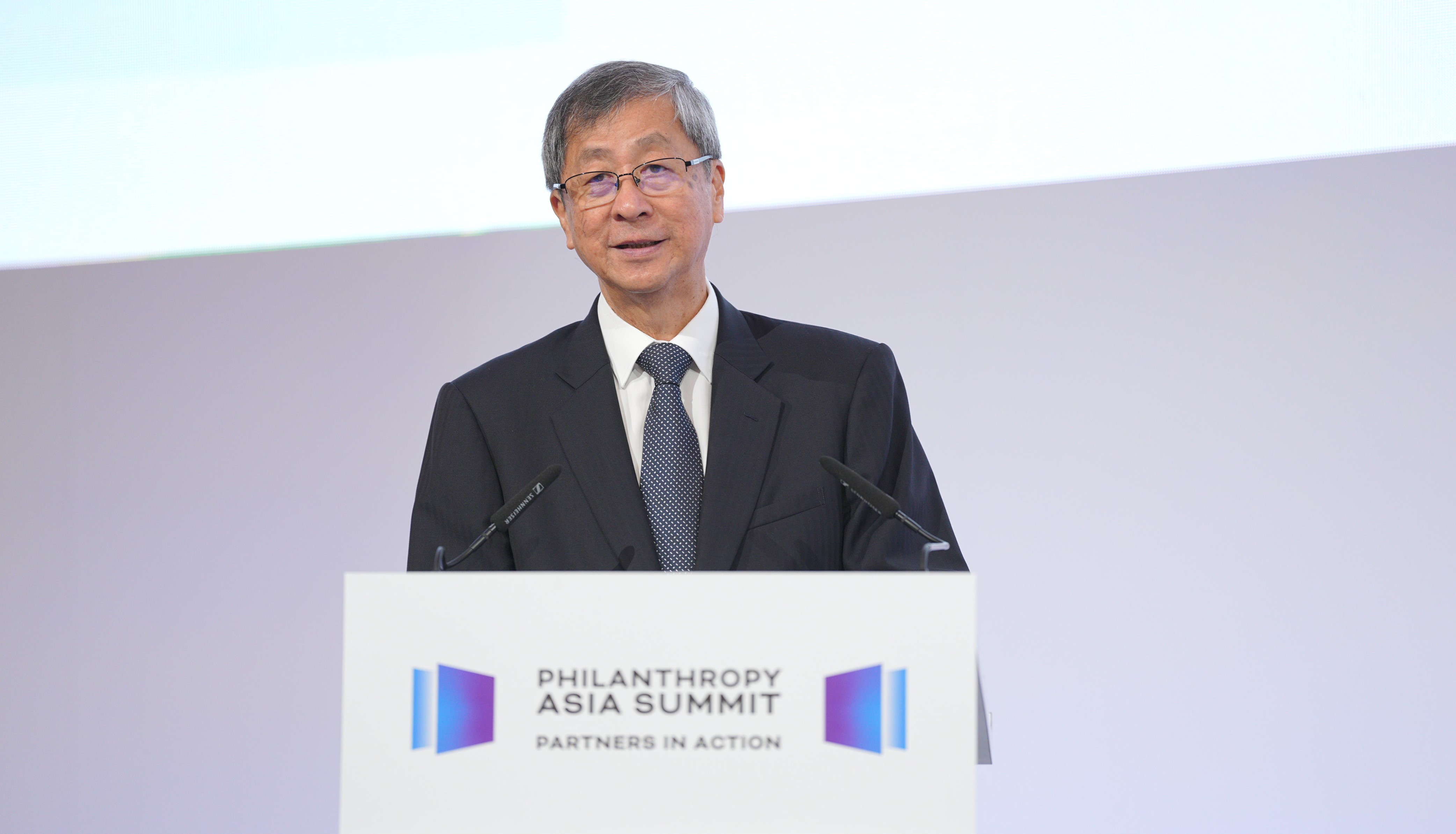 Mr. Lim Boon Heng, PAA Chairman, delivering the opening address at the Summit.
Read on for more highlights of PAS 2023:
---
1. Launching PAA & Other Collaborative Initiatives to Accelerate Sustainability & Impact
In his opening remarks, Temasek Trust CEO, Mr. Desmond Kuek, said that in the thematic areas of climate, health, education, social mobility, financial inclusion, there are intersections and cross-effects at multiple points.
This will "require that we take a broader systems-view to sense-making, an integrated multi-disciplinary approach to solutioning, as well as coherent and synchronous lines of action by all stakeholders", he added.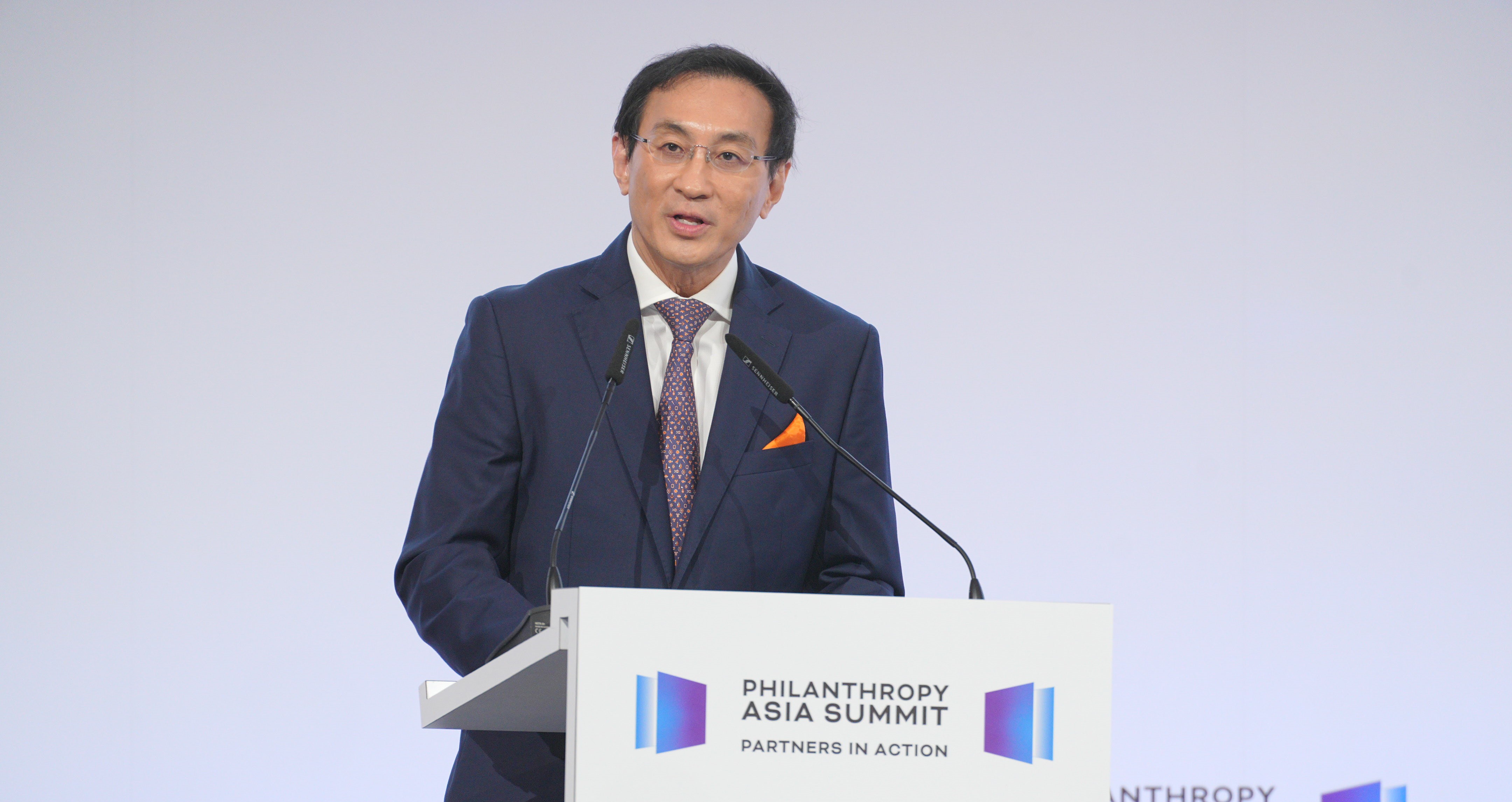 Temasek Trust CEO, Mr. Desmond Kuek, at PAS 2023.
In addition to the PAA's formal launch, many other ecosystem-building initiatives to accelerate sustainability and impact were made at the event, and we invite like-minded partners to join us in shaping them:
Asia Centre for Changemakers in Singapore: A learning lab for philanthropists, advisors and managers, social entrepreneurs, as well as community partners, to support more collaborative and innovative ways of giving and driving impact. We are targeting for the first programme at this new centre to run in early 2024
Co-Axis: A first-of-its-kind digital marketplace for catalytic capital to connect early-stage impact start-ups with funders who are equally committed to driving impact. A beta version will be ready at PAS in April 2024
Amplifier: A 12-month mentoring programme to incubate and support impact innovators, by providing them with mentorship, professional services, and training, so they can bridge the 'valley of death'
---
2. Calls to Action to Catalyse Solutions for Environmental and Social Challenges
A key differentiating factor of PAS is its Calls to Action (CTAs), which enable the philanthropic community to address the greatest environmental and social issues of our time. To date, PAA has curated 29 CTAs in the interconnected mandate areas of Climate & Nature, Holistic & Inclusive Education, and Global & Public Health.
Eight CTAs were featured at PAS 2023 – harnessing the ocean's potential as a vital climate solution, scaling ocean conservation, decarbonising rice, improving the quality of childcare in Vietnam, enabling out-of-school girls in rural India to complete secondary education, alleviating healthcare poverty in the Philippines, eliminating infectious diseases through genomic detection, and expanding access to safe drinking water in India.
Find out more about the CTAs by our partners – CareSpan Asia, Conservation International, Climateworks Centre, Duke-NUS Medical School, Educate Girls, Evidence Action, OneSky, Temasek Foundation, and Temasek Life Sciences Laboratory – here.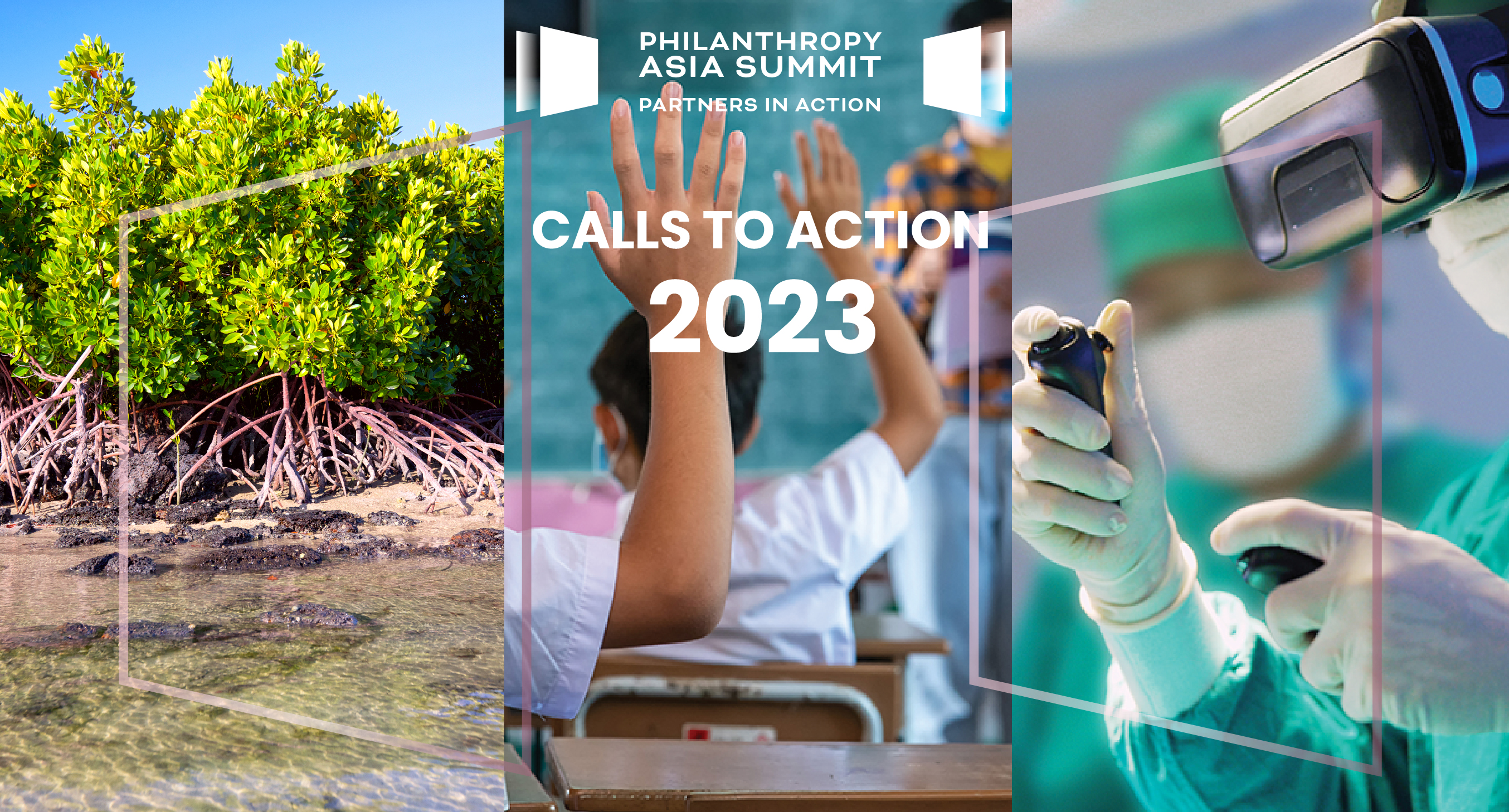 ---
3. Insights on Philanthropic Trends & Developments from Eminent Speakers from the Public, Private, and Philanthropic Sectors
Many eminent PAS speakers shared their diverse perspectives on the latest philanthropic trends and developments, with a common theme being the need for multi-sector collaboration and a systems-level approach to bring about the change we urgently need for a more sustainable world.
A highlight of PAS was the "Voices of the Alliance" panel, where senior representatives from PAA member organisations shared about their key philanthropic focus areas, strategies for driving impact, and the value they see in being part of PAA.
The panel, moderated by PAA CEO, Ms. Lim Seok Hui, featured Ms. Gargee Ghosh, President, Global Policy & Advocacy, Bill & Melinda Gates Foundation; Dr Binod Chaudhary, Chairman, CG Corp Global and Chaudhary Foundation; Mr. Badr Jafar, CEO, Cresent Enterprises and COP28 Special Representative for Business & Philanthropy; Mr. Kazumi Yanai, Group Senior Executive Officer, Fast Retailing; Mr. Chavalit Frederick Tsao, Chairman, IMC Pan Asia Alliance Pte Ltd; Mr. Leow Kah Shin, Principal, Quantedge Foundation; Mr. Bernard Tan, Country President, Singapore, Sinar Mas; Dr. J. Satrijo Tanudjojo, CEO, Tanoto Foundation; Ms. Sheryl Fofaria, Head of Social Impact & Philanthropy (SEA), UBS AG, representing UBS Optimus Foundation; and Mr. Paul Schreier, CEO (Interim), Wellcome Trust.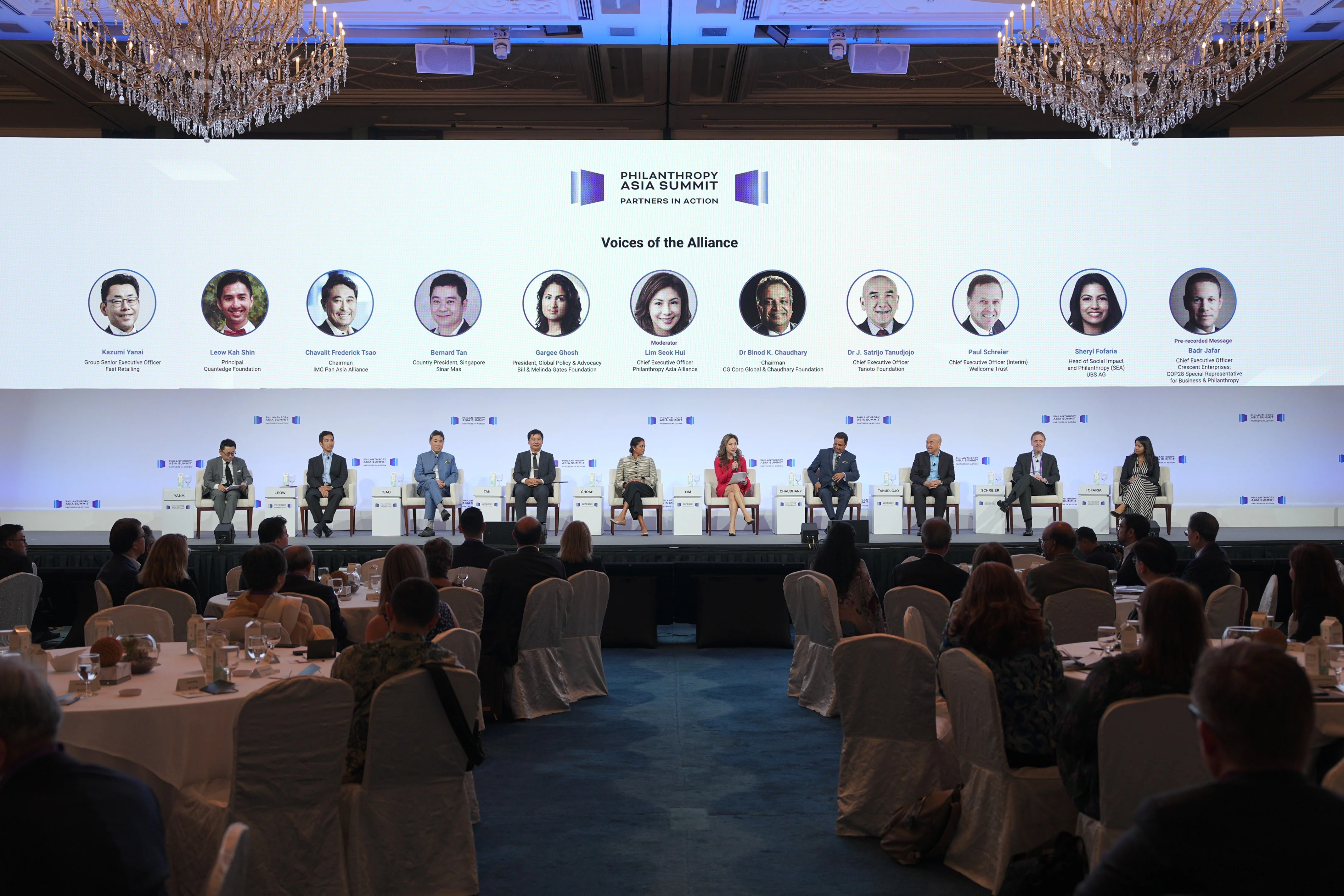 During the "Framing the Conversation on Climate Intersections" panel, Prof Koh Lian Pin, Director, Centre for Nature-based Climate Solutions, National University of Singapore; Prof Michael Kremer, Professor in Economics and the College and the Harris School of Public Policy, University of Chicago; and Prof Tan Sri Dr Jemilah Mahmood, Executive Director, Sunway Centre for Planetary Health, Sunway University – spoke on the need to apply a systems lens to look at the complexities of the world. High-impact and low-cost solutions are required to address the underlying issues relating to the climate crisis, considering the nexus among climate, health, community, and nature.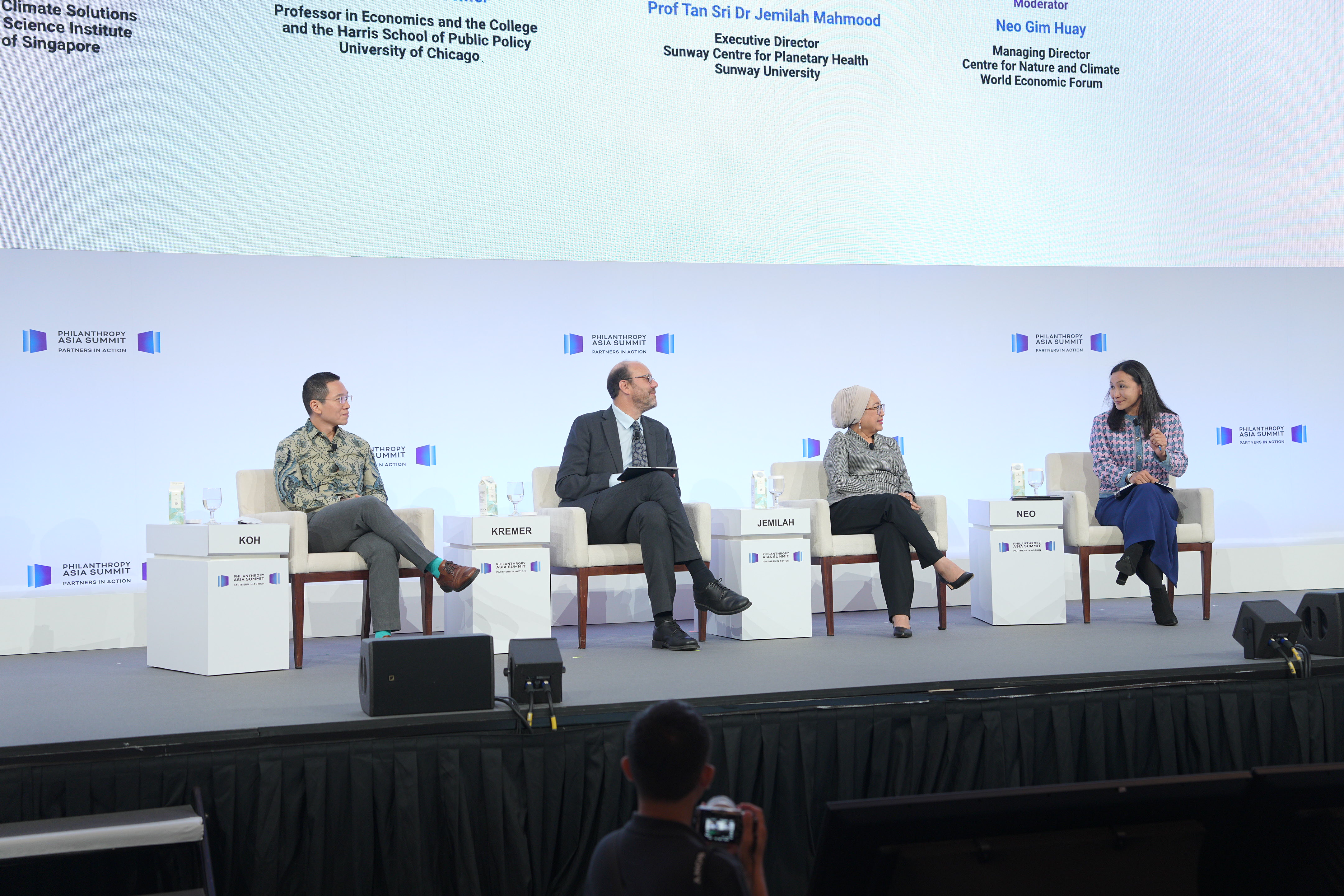 The "Impact Showcase" panellists – Mr. M.L. Dispanadda Diskul, CEO, Mae Fah Luang Foundation; Dr. Gabriel Leung, Executive Director, The Hong Kong Jockey Club Charities Trust; and Ms. Helen Mountford, President and CEO, ClimateWorks Foundation – spoke on pertinent topics such as the models needed for sustainable impact, impact measurement and management approaches, the catalytic nature of philanthropic capital and how it can crowd in capital from the public and private sectors, and why long-term commitment and multi-sector collaboration are key for sustained programme success.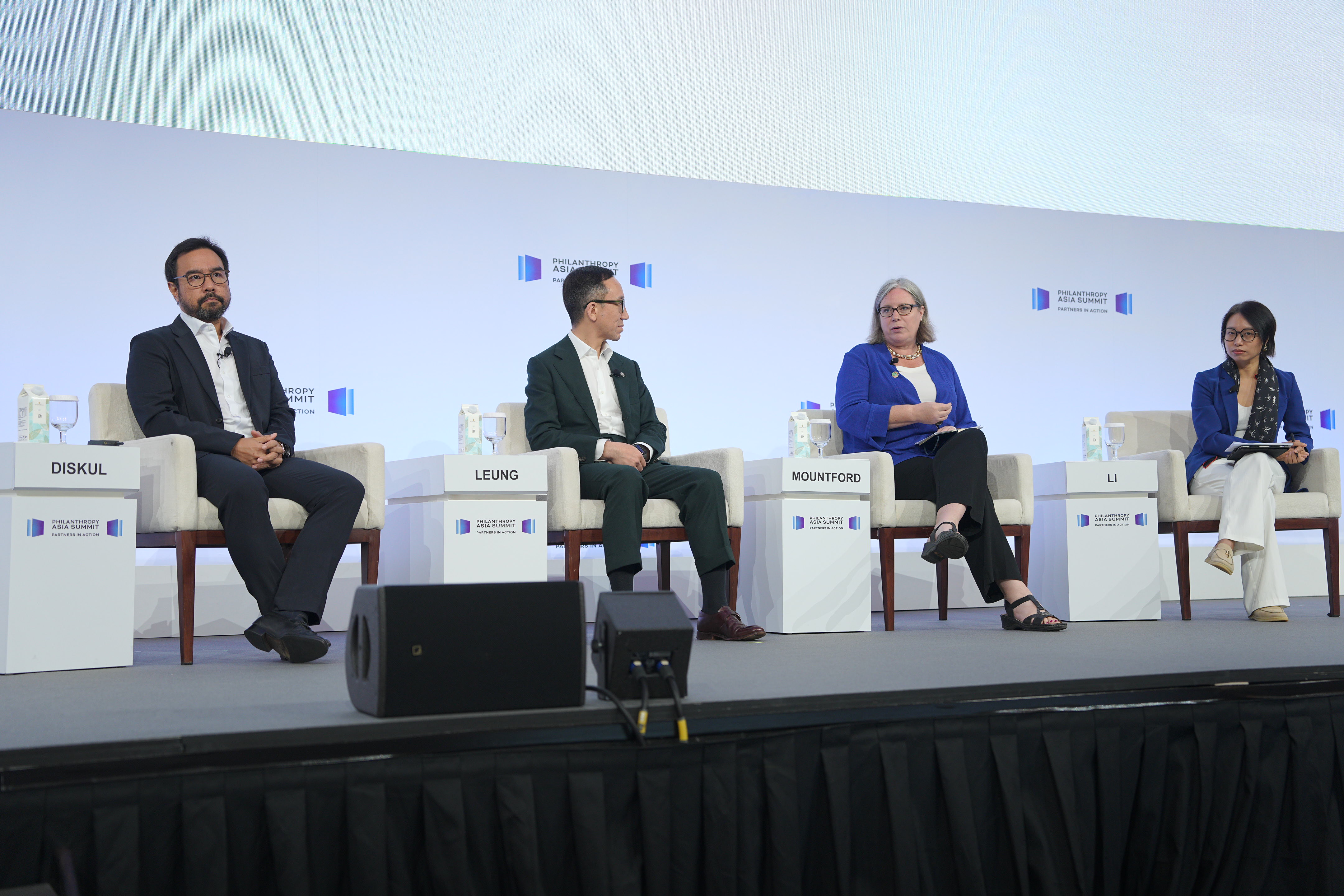 During the Fireside Chat, Co-Founder of Global Optimism, Ms. Christiana Figueres, urged the audience to reframe challenges to opportunities. To this end, she cited the significant opportunity for catalytic philanthropy and blended finance to accelerate impact in Asia, and exhorted the audience to act.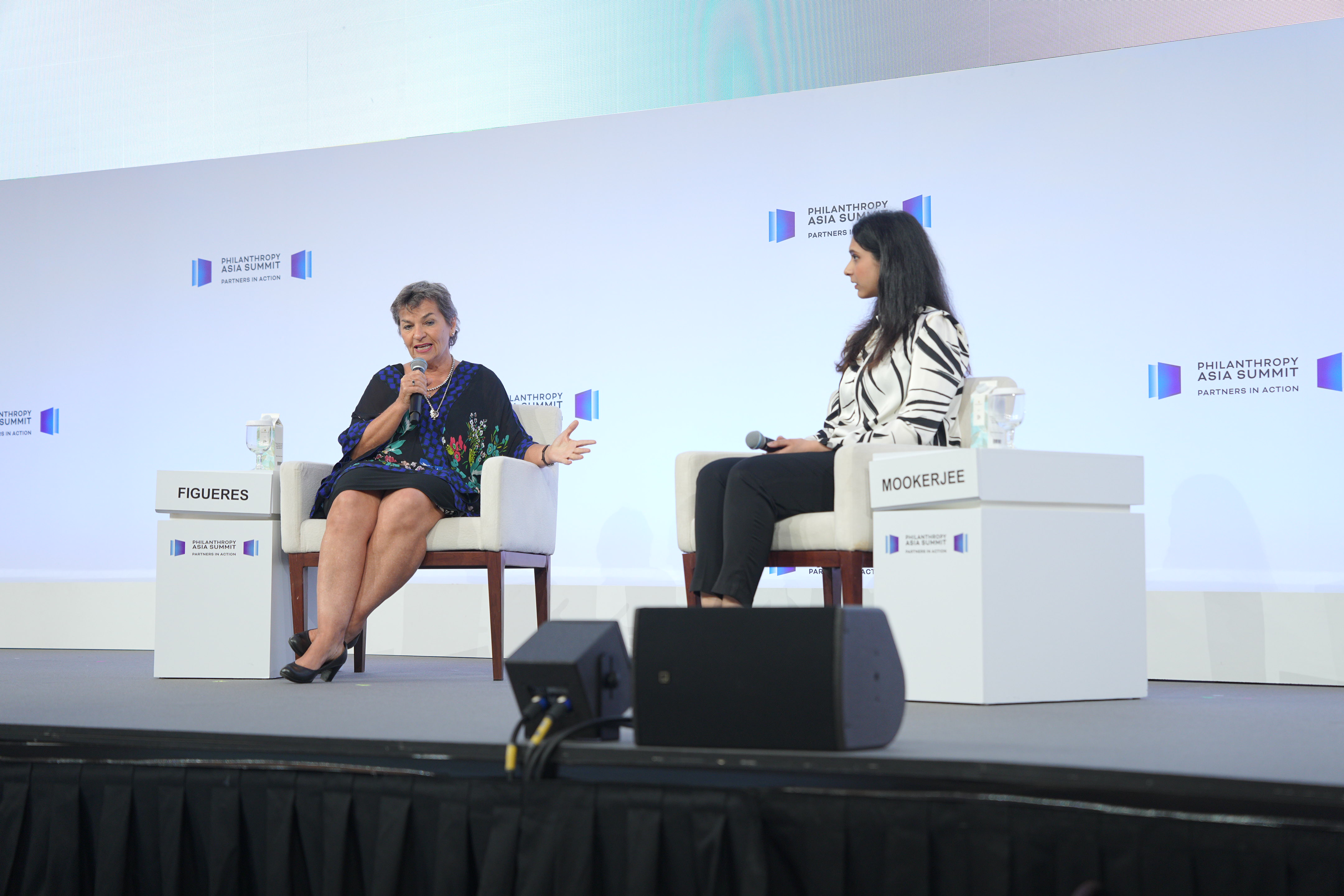 The lunch panel – "Collaborative Action to Xcelerate Impact and Sustainability" – featured Mr. Raymond Dalio, Founder, Dalio Philanthropies; Mr. Piyush Gupta, Group CEO, DBS Bank; Ms. Gillian Tan, Assistant Managing Director, Monetary Authority of Singapore; and Mr. Desmond Kuek, CEO, Temasek Trust. They spoke on the respective roles of the public, private, and philanthropic sectors in forging multi-sector partnerships, and how each can best play their part in accelerating impact – whether it is in implementing supportive regulation or setting up the platforms and infrastructure for collaboration, such as introducing an ecosystem-level approach for more sustainable and impactful change.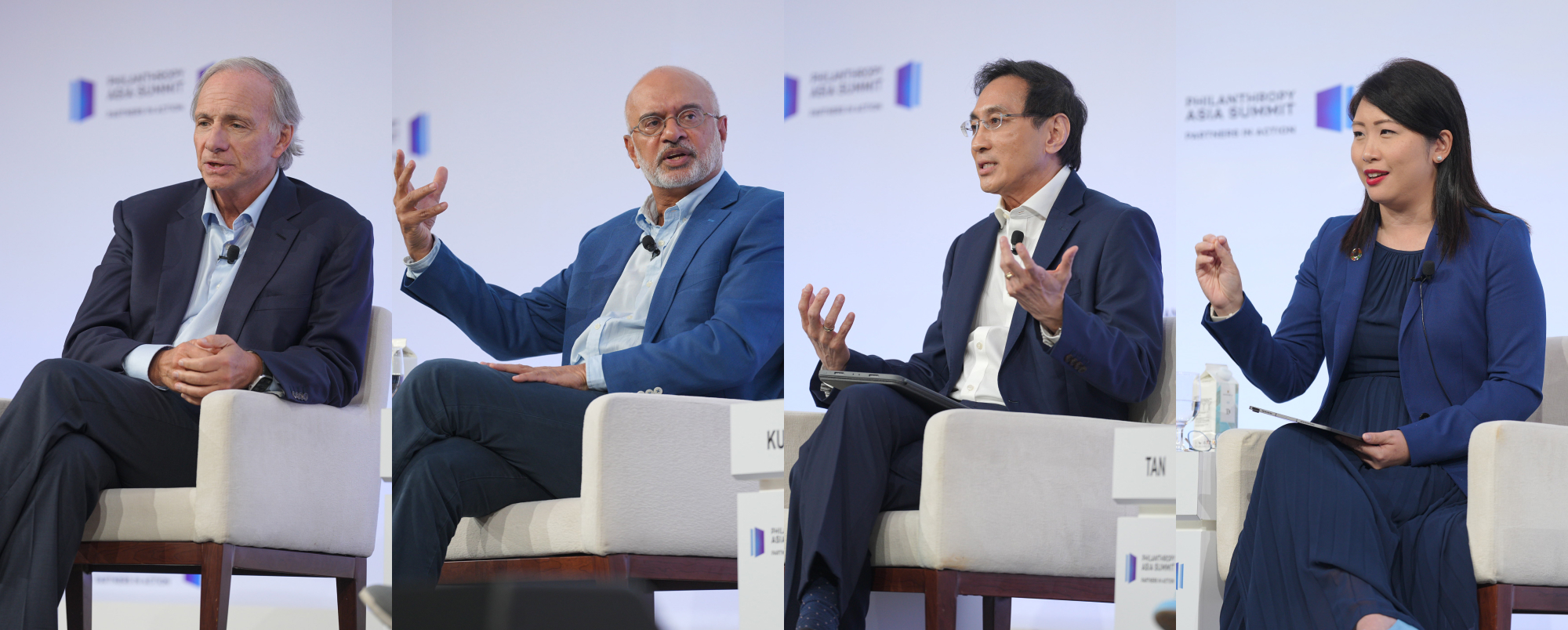 See You at PAS 2024!
The next PAS will be co-located with Temasek's Ecosperity in April 2024. For the latest updates, follow PAA on LinkedIn, and check out the Summit's website.